by Kyle Krieg, AAØZ
SLSRC and Arch Reactor (makerspace) teamed up Dec. 1st to host a Learn to Solder class with a total of 16 students.  Learn to solder sign ups were sent out to both the amateur radio and maker community and within 48 hours all 16 spots were filled with a few signed up on the waiting list.  
Class was held at the Arch Reactor makerspace just west of downtown St. Louis in the old Dixie Cream Donut Flour building. They have occupied this space since March 2016 and they give makers access to resources for a monthly fee.  Check out their website at http://www.archreactor.org.
Joe, WØFY put together a small slide deck from his 40+ years of soldering experience to start the class.  Handouts were given to the students with a beginner tips and tricks and we fired up the soldering irons! "Blink" kits from the Learn to Solder website were put together which included 3 resistors, 3 switches, 3 LED lights and a 3V battery.  Kit information can be found here http://learntosolderkit.com/.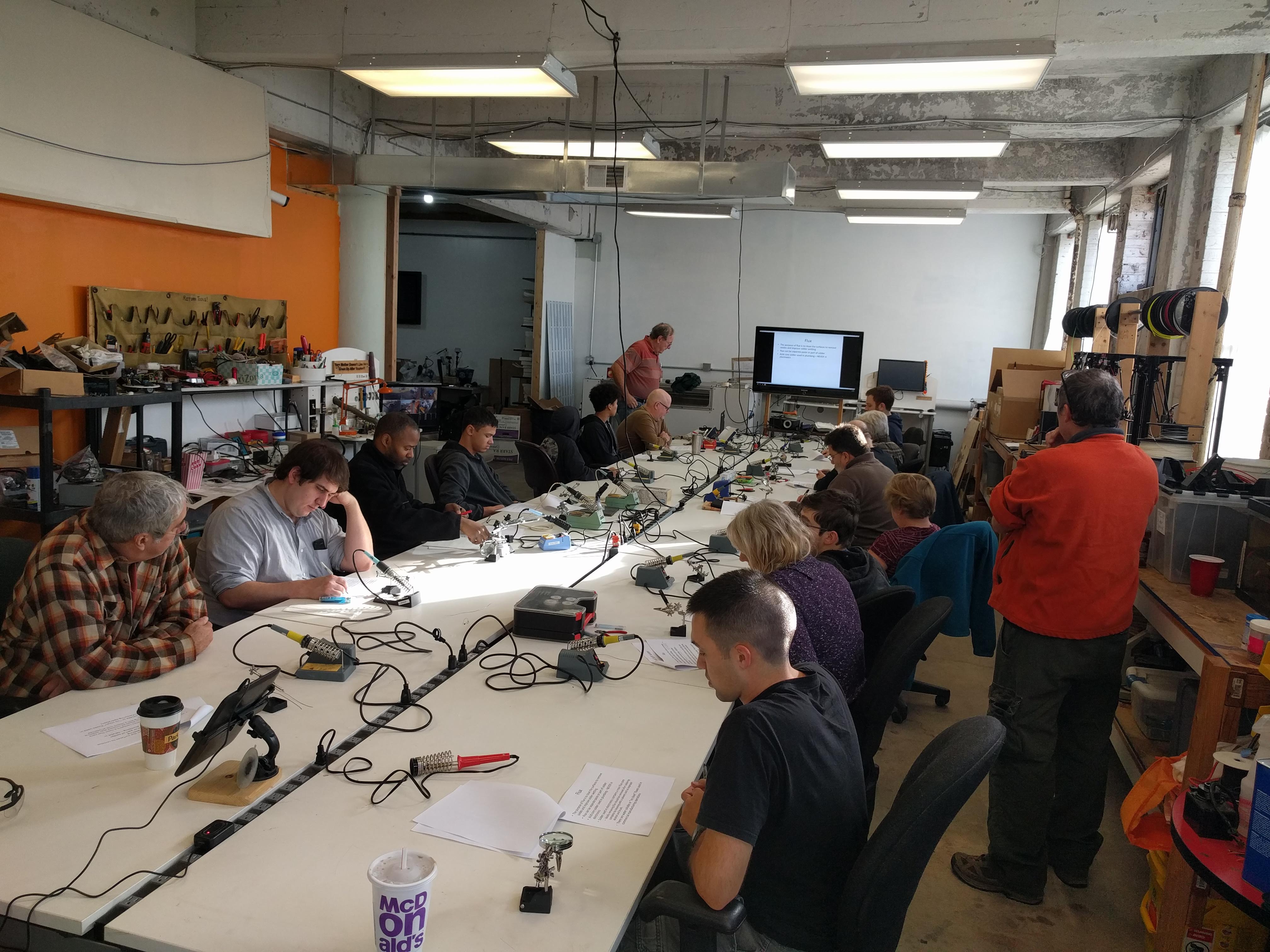 Students learned about different solder types, flux, general soldering rules, characteristics of a good solder joint and desoldering.  Soldering irons, kits, solder and instruction were provided with the class fee. Despite the beginner status of the students, everyone's kit looked great and we only encountered minor problems that were easily fixed.  After a quick tour of the makerspace, class was dismissed around 11am.
SLSRC would again like to thank Arch Reactor on helping put this class together and use of their space.  We plan on teaming up in the near future for another Learn to Solder class and maybe some kit building classes, so be watching for those announcements in 2019.
Thanks to the students, Joe, WØFY for teaching, Fred from Arch Reactor and the following people who helped with questions during the soldering exercise.
Chris, Arch Reactor
Kyle, AAØZ
Bill, KC9CIK
Cliff, KCØSDV
George, WØGRW
Alexandra, AEØDN
Rebecca, KC9CIJ